By Geoff Linton
The beauty of email marketing is that it is addressable direct messaging that creates a lot of digital exhaust. Marketers control when messages are sent and they have the ability to track engagement and impact on a number of different levels. But marketers also need to be aware that certain metrics can be inaccurate or biased. So it's best to start with some foundational metrics and "ladder up" from there.
Google's analytics evangelist, Avinash Kaushik, argues in his article on the Impact Matrix that digital analytics and measurement tends to be over-complicated and complex. He believes that depth of influence should be the single most important factor when selecting Key Performance Indicators. While the Impact Matrix is an excellent strategic analytics framework to measure broader marketing performance, email marketing is a unique tool and requires its own considerations. So, I created an "Email Measurement Escalator" for marketing practitioners and executives to understand what metrics they should strive to measure, and how to get to the next level of performance and impact.
The Progression of Metrics: The Escalator
The Email Measurement Escalator (see below) is an analogy of how different marketing stakeholders within a company typically view the performance of their email marketing campaigns. Marketers see different things at different levels. At the lowest level of the Email Measurement Escalator, frontline marketers are in charge of execution and they report the basics around contacts. As you move up the Escalator, marketers look deeper for proxies that measure engagement. Those employees who manage budgets are typically interested in the relative efficiency versus other media vehicles. The ultimate objective is to prove that email marketing can drive predictable and statistically significant results like profitable changes in behavior, build customer equity, and generate profit streams.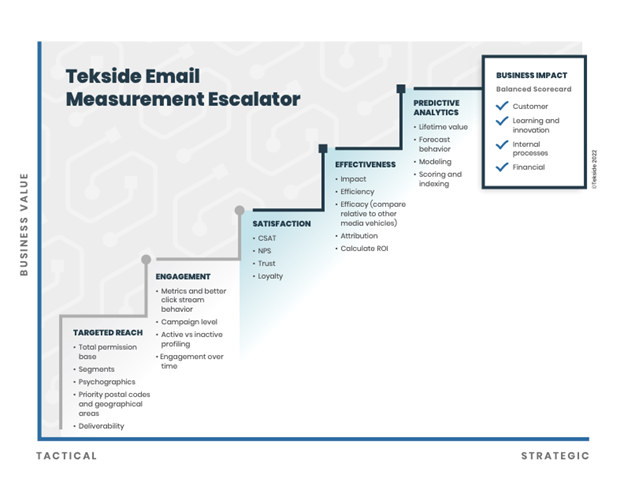 The level that you choose to focus on depends on your business model, growth objectives and marketing maturity. Below is a description of what to measure at each level:
Level 1 – Targeted Reach
At the lowest level entry point of the Email Measurement Escalator, marketers typically look at email as a method to directly reach their customers and prospects to help lift awareness. Getting into a recipient's inbox (i.e., deliverability metrics like Inbox Placement Rate) and in front of their eyeballs is important for the brand marketing teams.
The benefit of email is its "targeted reach" to a specific list (based on an element of permission of course). Unlike mass media or print flyers, marketers are able to identify exactly who the message was delivered to. Marketers often take targeting a step further, by profiling first party data and seeing what specific segments are reading and engaging.
Reach is a basic goal and is often centered around geography (key trade areas or priority postal codes). Marketers need to track the total size of their mailable list and decide the optimal list size for different campaigns. But also realize that permission lists are constantly changing, and marketers need to balance list churn and the acquisition plan required to meet response goals.
Level 2- Engagement
At the second level, marketers measure interaction (i.e., response) with the email message (e.g., campaign clicks, opens, etc.). Clicks and high value actions (e.g., watching a video) are a good proxy for interest. Industry leaders define which customers are highly engaged versus inactive, and profile the key differences between segments.
Rather than just fixate on one single data point, it is also a good idea to examine engagement and clickstream behaviour patterns over a period of time. Examine your engagement deciles and top scoring engagement segments.
But also, beware. There are several challenges with some clickstream metrics. First of all, open rates were always a rough measure because they are based on a tracking pixel that sometimes become blocked. Secondly, Apple's new rules regarding Mail Privacy Protection (MPP) will artificially inflate open rates on Apple devices. Finally, non-human interaction (i.e., bots) also falsely skew open and click metrics upward. The most pure and reliable metrics are conversions (i.e., track conversion rates). Bottom line is that the key is to select metrics that are most aligned and matter most to your business model. Open rates are not a reliable metric any longer.
Level 3- Satisfaction
Sending messages is one part of the equation, but companies also need to make sure they deliver on their promises with relevant content. Are you delivering on your value proposition? How happy and satisfied are subscribers with your email program? Are customers getting value?
Two main ways to measure at this level include customer satisfaction (CSAT) and Net Promoter Score (NPS). Customer satisfaction is incredibly important because customers who are more satisfied with your email program trust you more, which is in turn correlated with higher loyalty. Best-in-class practice is to conduct ad-hoc NPS polls and also do primary research check-ins with groups of subscribers (2x per year).
Level 4- Effectiveness
There are several aspects of effectiveness:
1) Efficacy (Does the job get done? with the desired result), and
2) Efficiency (how much money and resources did it take?).
Email is strong in both areas because it is quick and timely to execute, plus it is precise. Good email stimulates response and fuels demand generation. Email drives direct conversion or is a big nudge in the buying journey. Note: email traditionally has the highest ROI of any vehicle (over $30 of incremental revenue for each dollar invested).
A huge advantage of email is that it's owned media, which means there are no extra paid media fees so it's low cost to execute. While paid media can get lots of eyeballs quickly, email generates a faster response at a much lower cost per click.
Efficacy & efficiency are important considerations for the finance types in your organization. They want to spend wisely and also find the best way to grow/scale. There are many media options available to marketers and the dilemma is "where to spend." The obvious answer is to focus on where you get the most bang for your buck.
Level 5- Predictive Analytics
Level 5 is a step for advanced marketers. While the lower escalator levels focused on historical (i.e., what happened), Level 5 brings a forward lens by leveraging analytics & modeling. The goal is to predict behaviour and highlight "what will happen next?" For instance, customers can be scored and indexed according to behaviour, and predictive modeling can then help companies understand likely behaviour patterns.
Leading marketers look for key behavioural indicators or triggers. Some financial institutions flag clients in real-time when a customer migrates or pivots from a segment. They also use models to prioritize the next best content.
The gold standard is to measure Lifetime Value at the segment and individual level.
Level 6- Business Impact
Business impact are the key outcomes that the C-suite want to see. These measures need to be strategic and broad enough to measure the health of the organization.
A helpful holistic tool is the balanced scorecard approach, which examines 4 key areas of business: Customers, Learning & Innovation, Internal Processes, and Financial Outcomes. The CLIF methodology emphasizes starting with your customers first. Next, leaders typically prioritize learning and innovation, because it's important to adapt and keep things fresh to stay ahead of the competition. Optimizing internal processes helps improve efficiencies and better manage competing priorities. If you do the first three things well, the final outcome is significant financial payback.
What Level of the Escalator Are You Focused On?
The best level for your business depends on many factors and your context. For example, targeted reach may be the right place to start for retailers with large addressable audiences. However, if you're in a highly competitive insurance sector, it's likely more valuable for your company to focus your efforts on building customer satisfaction and trust.
It's often one step at a time and the escalator ride may take a bit of time! Remember the competencies at lower levels must be mastered before tackling more sophisticated levels. Sometimes marketing is a slow series of incremental improvement – but the outcome is worth it!