I am often surprised that with the sophistication of email marketing today, there is so much data that essentially gets "left on the floor" when it can be used to drive significantly better email performance.
While I spent most of my career with a large ESP and agency, today, I work with small businesses, and while the desire for sophisticated email marketing is the same, the budget for tools beyond the ESP isn't there. This means I am left to maximize the data within a client's ESP to drive results. Sounds like it might be a problem. Think again!
By utilizing data solely in the ESP, we were recently able to increase the conversion rate on a specific program by 600%. Keep in mind we are talking small businesses, so smaller lists, but the conversion rate was still incredible.
How did we do it?
Hopefully, you are already pulling in CTR and Click Reach Rate to your monthly analysis, but are you using where people click within the email to better engage them with your brand? While we all want subscribers to click and purchase, that isn't realistic for each email you send. A big part of email marketing is building a relationship with the customer.
So how can you best use this data to drive better email marketing performance?
You likely have some of the same links in every email you send. Think of your navigation/menu, forms that collect more customer information, or links that go to a category section on your website. Just because people don't convert the first time they land on your website doesn't mean they won't purchase in the future. We all get busy, and what subscribers click on within your email provides valuable insight into their interests. By creating a journey based on where/what a subscriber clicks on and providing more information, you are better engaging subscribers with your brand and what they were specifically interested in.
Below is an example of how this works: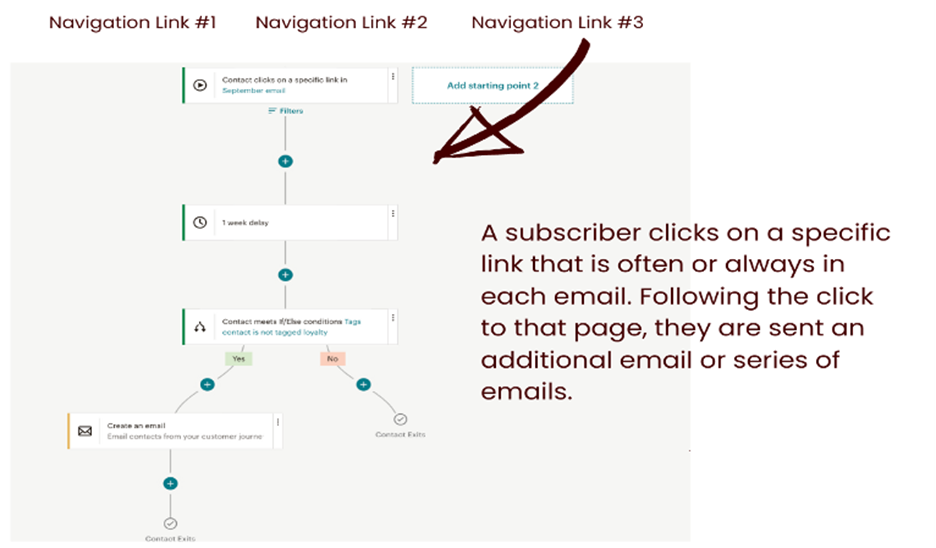 The most surprising part of this automated journey was comparing it to regular marketing emails; we saw a 7% conversion rate vs. 1% from the standard weekly marketing emails.
So how can this be?
This automated journey is sent to a small segment of subscribers. We know three things about them before the email is sent: 1) They opened, 2) They clicked 3) We know what they clicked on.
By knowing these three things, we send them on a journey with the brand explicitly based on their specific interest. Think of this almost as an abandon cart email but based more on the abandon click. Utilizing the click behavior for additional journeys means more touch points, targeted emails, and more revenue. Now, if you can layer on purchase data to fine-tune the journey and suppress purchasers even better.
When I see that a journey like this generates a 600% difference in conversation rates, I am reminded that we need to better use our ESP and data within our ESP (first-party party) instead of leaving it on the floor.